Fifth GF Summer School 2017
GF in a Full Stack of Language Technology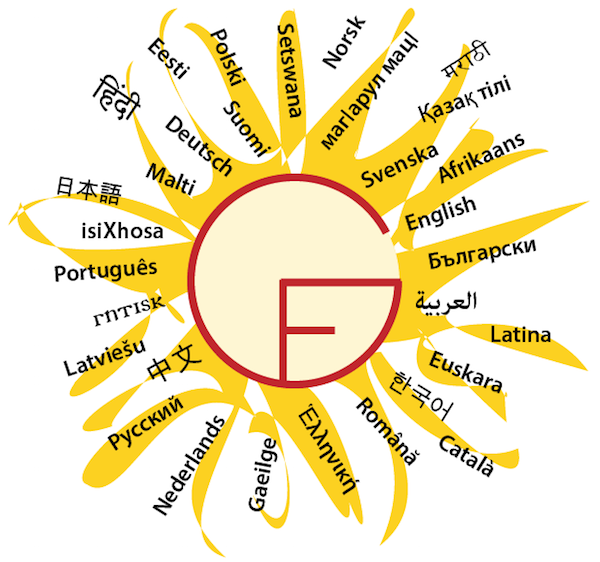 Rīga, Latvia
14th–25th August 2017
About
Grammatical Framework (GF) is a multilingual grammar formalism based on the idea of a shared abstract syntax and mappings between the abstract syntax and concrete languages. GF has hundreds of users all over the world.
The GF Resource Grammar Library (RGL) implements the morphology (inflection) and basic syntax (phrase structure) of more than 30 languages: Afrikaans, Bulgarian, Catalan, Chinese, Danish, Dutch, English, Estonian, Finnish, French, German, Greek, Hindi, Interlingua, Japanese, Italian, Latvian, Maltese, Mongolian, Nepali, Norwegian bokmål, Nynorsk, Persian, Polish, Punjabi, Romanian, Russian, Sindhi, Spanish, Swedish, Thai, and Urdu. These resources are freely available as open-source software.
We are constantly welcoming new languages, especially from new language families, as well as EU languages not yet covered by the Resource Grammar Library (Lithuanian, Irish, Czech, Slovak, Hungarian, Slovene, and Portuguese). Learn more at the RGL status page. The summer school is an excellent place to get started with a new language.
Schedule
The summer school starts with a GF tutorial aimed to be suitable for absolute beginners and bring them to the level where they can do independent work and follow the rest of the talks. But the tutorial should also make sense to experienced GF users, as it gives an update about some recent developments.
The tutorial will be followed by talks on various topics around GF and multilingual technology. These talks will be accessible even to the beginners who have followed the tutorial. They will usually not build on each other, so that, even if you find some of them difficult to follow, this will not compromise your understanding of the later talks.
Morning talks are intended for everyone, whereas afternoon work is in smaller groups. In the afternoons, guided tutoring will be given in small groups and to individuals, with detailed exercises and possibility for feedback.
The afternoons also contain specialized tutorials and workshops, aimed for those interested in their topics; other people can focus on their own projects in the meantime. Their duration can be anything from 30 minutes to 3 hours.
Practical work in the afternoons is an essential part of the summer school. The participants are expected to bring their own laptop computers and work on them. The tutors will help everyone to install the GF software (as well as other relevant tools). The GF software should work without problems on Linux, Mac OS, and Windows.
Venue
The summer school will take place in Rīga, the capital city of Latvia.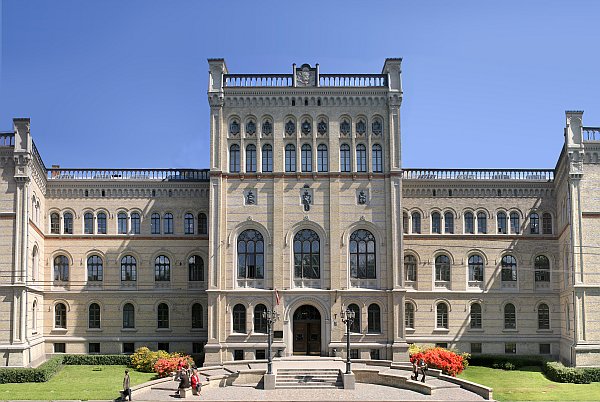 All lectures and afternoon sessions will be held at the Faculty of Computing, University of Latvia, Raiņa blvd. 19, which is located in the very centre of Rīga.
Founded in 1201, Rīga has become the largest city in the Baltic states, and one of the largest cities in Northern Europe. Located on the shores of the Baltic Sea, the city has been a centre of trade and commerce for many centuries. As a result, Rīga is a fascinating mixture of proud Latvian traditions and influences of the various countries and cultures that have controlled it throughout history.
The historical centre is a UNESCO World Heritage Site: medieval buildings of Old Riga, unique Art Nouveau architecture, and 19th century wooden architecture – all in one place.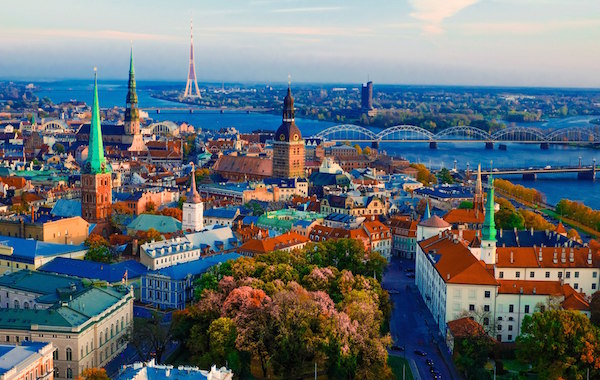 Find out more about Rīga and Latvia!
P.S. Jūrmala, the renowned seaside town, is just 30 min. by train. There you will find an endless beach of white sand, shallow coastal waters, revitalizing air from the sea and the tall pine trees, characteristic wooden houses, playgrounds, cafes and more.
Getting there
Most likely you will fly to Riga International Airport (RIX) which is only 10 km from the city centre. A taxi ride from the airport to central Riga takes 10–20 min., and it costs EUR 10–15. Bus #22 and minibus #222 run to and from the airport frequently, and a ticket costs EUR 2.
Accommodation & general information
Accommodation
There are many options for accommodation in a walking distance from the venue. Check out Booking.com and Airbnb.
Jūrmala is a perfectly possible option as well.
Do not hesitate to ask any questions about accommodation, location or other practical matters to the local organiser.
Practical stuff
Registration
Participation in the summer school is free of charge, but applications are subject to approval. Otherwise, the cost of the summer school is likely to be self-cost, that is, most participants pay for their travel, accommodation, and meals.
Scholarships
Students, academic and research staff of foreign higher education institutions can apply for Latvian state scholarships, 711 EUR each, for participation in the summer school. We are able to provide these scholarships for 10 participants. The scholarships, however, do not cover travel expenses. Also note that there is a limited list of 38 countries, citizens of which are eligible to apply for the scholarships.
Travel grants
In addition to the scholarships, we are able to provide travel grants, 300 EUR each, for 5 participants to attend the summer school.
Summer school projects
To be eligible for a scholarship and a travel grant, you must do some preliminary work on a GF-related project before the summer school. You must also submit your CV and a motivation letter.
The deadline for project and document submission is 30 April 2017.
More information will be provided soon.
The GF mailing list is a great place to ask about anything GF, including the summer school.
If you use IRC, you should join the #gf channel on the Freenode network to ask quick questions or just chat about GF and the summer school.
If you have a more specific question, you can contact us directly below:
Local organiser: Normunds Grūzītis, normunds.gruzitis at lu dot lv (University of Latvia, Faculty of Computing / Institute of Mathematics and Computer Science)
Co-organiser: Aarne Ranta, aarne at chalmers dot se (University of Gothenburg)
Webmaster: John J. Camilleri, john.j.camilleri at cse.gu dot se (or jstar on IRC)
Previous GF summer schools